A couple of weeks ago, in celebration of her daughter's college graduation, and in celebration of her house remodel, and in early celebration of this site launch, and in celebration of pork being awesome Viki and I decided to spit roast a pig in her backyard. I don't remember when or why we decided that I was going to stuff it with garlic and lemongrass and hand crank it over the fire, but at the end of the day, next to the grilled chicken thighs, and potato salads, and mac and cheese, Viki had Filipino lechon at her party.
While this was my first time personally cooking the pig, as a Filipino this was hardly my first go around with spit-roasted whole hog. My sister tells me that, during a family trip to the Philippines when I was four or five, we went to a restaurant that had an entryway with one glass wall looking into a huge oven with several roasting pigs rotating in time. I don't remember that, though I do recall being encouraged to eat with my hands at the table.
As life went on lechon sometimes followed at family and community parties and gatherings featuring seemingly endless trays of delicate, moist pork with the ever-present bottle of Mang Tomas on the side. I remember sifting through for the fattiest, juiciest pieces and – if I was lucky – any remaining bits of potato-chip-crispy skin. On a couple of occasions I remember my dad coming home with the cooked pig, and I remember the methodical bam-bam-bam pounding as he chopped it to pieces with a machete in the garage. Once, for my high school graduation party, I went with him to pick up the pig from a farm outside of Cleveland, my first experience seeing whole dead animal before it became nondescript grocery store ingredients for food. We dropped it off downtown for cooking – it was an adult pig and we had no space for a fire that large in our backyard – and I still remember sitting in the car after picking it up, the tantalizing smell of cooked pork fat wafting from the back of the SUV.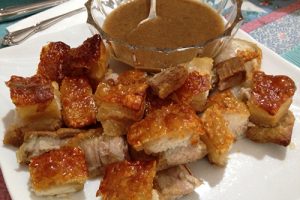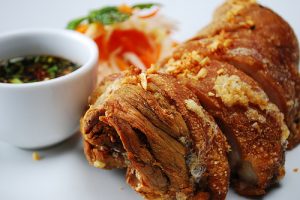 Lechon is a luxury, and a bit of a rarity. It was always a pleasant surprise to find it at parties because usually the community gatherings were pot luck style affairs where folks just brought their favorite dishes from home. Who was going to spend the money to buy and roast a whole pig for the 5th of 27 church feast days? As well, Filipino restaurants in my experience tend to offer lechon kawali or crispy pata – delicious pork dishes in their own right that require a much smaller commitment of money and time.
When my sister and I lived near each other in New York, at some point we decided to treat ourselves. At Thanksgiving we took it upon ourselves to bring this luxury to all of the folks who, like us, were staying in town for the holiday and a couple of years in a row we ordered a whole lechon from one of the Filipino restaurants around, and supplemented it by cooking various favorite Filipino dishes on the side. It was a cleaver instead of a machete, and my sister's work table instead of a bench in our garage, but I'd be lying if I said I didn't feel a special something the first time it was my turn to portion out that pork. At the end of the evenings our stomachs were even more full than her Brooklyn apartment.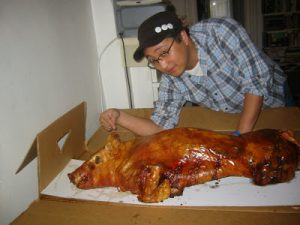 And we never heard any complaints from swapping out the turkey in favor of the pig.
This pig in Viki's yard was different from all of the others. Once again, like my HS graduation, I was faced with pork-as-animal instead of pork-as-ingredient.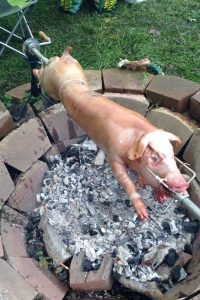 This time, though, the prep and cooking were in my hands – along with a friend who offered much needed help since despite my cub-scout upbringing I apparently cannot tie a secure knot. An oven or a motorized spit would have allowed me to set-it-and-forget-it but this time, because we chose a hand-crank spit, for the first time in my life I watched the pig go from dead animal to food. It was a little disconcerting, but it's something I'm happy I've done in a know-where-your-food-comes-from sort of way. In a world of vegan NFL players it's pretty clear that (barring food allergies) meat isn't necessary for a human's caloric and nutritional needs. This means that every time I eat meat something that used to be living is now dead, mostly because I like the way it tastes. The least I can do is understand and face the fact that it was ever alive.
The pig was inexpertly cooked, since I am no expert. The belly, back, and back legs were, I thought, terrific, but the front shoulders and face probably needed another 45 minutes on the fire – a sign of uneven heat. In hindsight I should have taken some of that face and thrown together a slamming sisig. I managed to get decently crispy skin around the belly, but never got an all-around crisp. After extracting all the crispy skin available I handed the knife over to Viki's ex-husband, an avid hunter, who expertly butchered it into proper cuts – a world away from the hack-and-slashing I would have done. As quality control expert I obviously had to sample the cuts as they came off the cutting board. Obviously.
Lechon has been in my life literally since before I can remember. Throughout my life I've seen it as an ideal of pork, pure and unadulterated. Being able to take it from animal to ingredient to dinner will always be something I cherish, though hopefully I get another shot at nailing that candy-crisp skin. And next time I will definitely save some of that face for sisig.