Burgers are a comfort food for me. In fact, 8 out of 10 times I'd rather have a really good burger than a really good steak. I've eaten a lot of burgers since moving to Chicago (a LOT) three years ago and I've decided to rank them. Memory is an imperfect device, though, so it wouldn't be fair to just rank based on how I feel today. I'm going to eat my way through Chicago's burgers and rank them as if I've never eat there before. The result of this cut-bun, no-meats-barred battle will be THE definitive list of burgers in the greater Chicago area.
And it starts today with Au Cheval.
This is a pretty good place to start because I'd never actually been to Au Cheval before. Since this West Loop staple has reportedly the best burger in the city I wouldn't blame you for doubting my burger cred at this point, but I suppose the stories of two hour waits and the general hype put me off for a while. Here's a pro-tip though: If you get there at like 5:15 on a Tuesday you can walk in without a wait!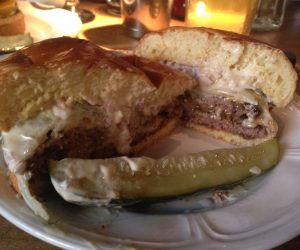 The Au Cheval burger is a smashed-patty, ooey-gooey umami-bomb. The "single" on the menu actually comes with two patties pressed on a flat-top griddle cooked to about a medium-well*, topped with Kraft American cheese and Dijonnaise on a toasted seedless bun.
When they put this burger together they weren't striving to blow the roof off of folks with a fetish for fancy ingredients or overly complicated toppings. They just wanted to do an elevated version of a classic, and they pretty much accomplished that. The burger is juicy and rich, and bursting with flavor. It's delicious. The bun holds up to all the sauces and juices (toast your buns, burger people, it makes a difference!) without disintegrating, and overall it's easy to see where all the raves come from.**
I will say, though, that for my taste it is a little overboard on umami and lacks a little bit of balance. The Dijon element of the sauce is fairly understated and doesn't quite have enough kick to cut the super savoryness of the beef, cheese, and the rest of the sauce. Also, while I do dislike the trend of some restaurants putting a 1.5″+ thick meatball on a bun and calling it a burger, these super thin patties are also not my favorite. There's something to having a patty about 3/4″ – 1″ medium-rare that really brings out the beefy flavor in a burger. Griddle char tastes great, but on thin patties tends to overpower the beef a little.
Of course I'm nitpicking here. This was a really tasty burger that more than earned its place atop my enormously long list of Best Burgers in Chicago.
Chicago's Best Burgers
Au Cheval
---
*Flat patty places will rarely ask you for temperature, but the thinness of the burger usually makes it hard to notice the difference.
**To be clear, though, there are very few things on this Earth I will wait in a two hour line to eat. Go at a weird time early in the week.
Save
Save
Save
Save